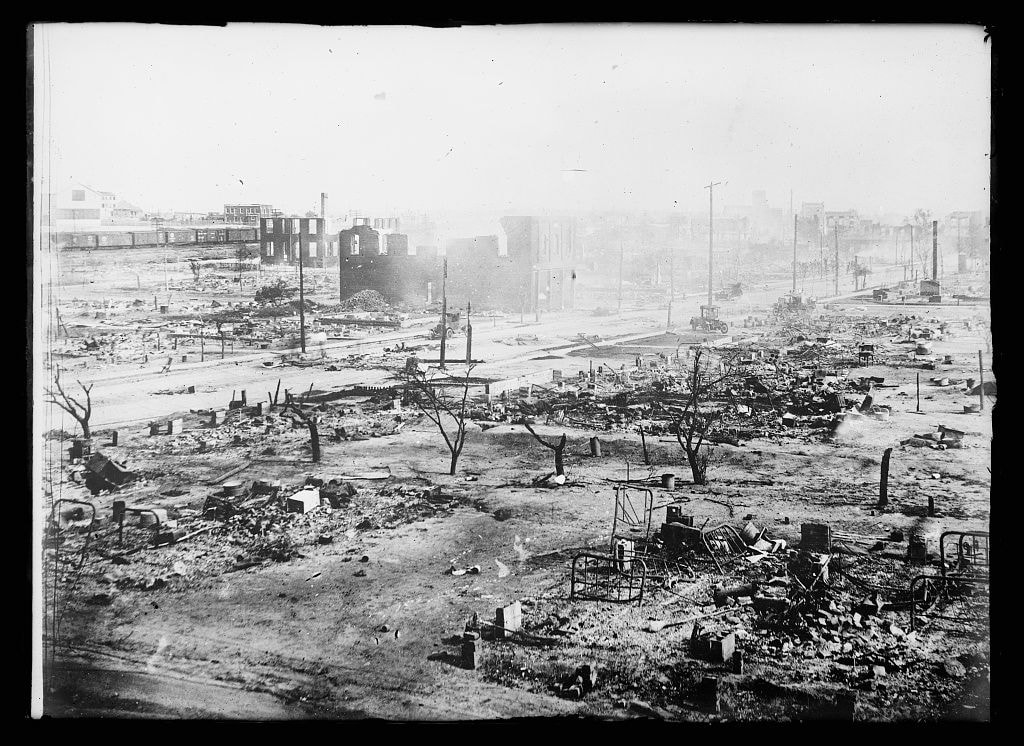 On View
Buchwald-Wright Gallery, Free Admission
Acknowledgements
Co-sponsored and co-presented by the Center for the Study of American Democracy.
The Gund Gallery exhibitions and programs are made possible, in part, by the Gund Gallery Board of Directors and the Ohio Arts Council.
Donors/supporters

100 years ago, the United States stood on the cusp of what would be known as the Red Summer. 1919 was a moment of great upheaval in American history as WWI came to an end and an estimated 500,000 African Americans emigrated from the South to the North as part of the Great Migration. Paranoid fear of a red wave of Communism, combined with shifting labor markets, economic instabilities from post-war unemployment and inflation, and African Americans' demands for racial justice stoked the fears of white people who formed mobs and attacked black communities across sixteen states and DC. Mainstream white news outlets disseminated fake news proclaiming "Negroes Plan to Kill All Whites" and publications and organizations serving black communities were feared to be fronts for the cultivation and dissemination of Communist thought and plots. Although exact numbers remain unknown, approximately 200 African Americans were killed between May-October of that year.
This installation by award-winning artist and musician and 2018-2020 Gund artist-in-residence Paul Rucker (American, b. 1968) combines original historical artifacts with the timeline of political, social, and economic events between 1900 and 1925, the years leading up to and following the Red Summer. He also maps the events we have endured 100 years later, between 2000 and today, and asks us to contemplate the final years of the first quarter of our current century and how we will participate in them.
Paul Rucker is a visual artist, composer, and musician who combines media, often integrating live performance, sound, original compositions, and visual art. His work is the product of a rich interactive process, through which he investigates community impacts, human rights issues, historical research, and basic human emotions surrounding a subject. He has presented performances and visual art exhibitions across the country and has collaborated with educational institutions to address the issue of mass incarceration, racial injustice, and the history of slavery.
Rucker has received numerous grants and awards, including a recent Guggenheim Fellowship, Creative Capital grant, Joan Mitchell Painters & Sculptors award, Mary Sawyer Baker Award, the Rauschenberg Artist as Activist Fellowship, and the Smithsonian Artist Research Fellowship, for which he is the first artist in residence at the new National Museum of African American History and Culture. He has had residencies at MacDowell Colony, Blue Mountain Center, Ucross Foundation, Art OMI, Banff Centre, Pilchuck Glass School, Rauschenberg Residency, Joan Mitchell Residency, Hemera Artist Retreat, Air Serembe, Creative Alliance, and the Rockefeller Foundation Study Center in Bellagio, Italy. In 2013-2015, he was the Robert W. Deutsch Foundation Artist in Residence and Research Fellow at the Maryland Institute College of Art. Rucker is currently an iCubed Visiting Arts Fellow embedded at the Institute for Contemporary Art at Virginia Commonwealth University. In 2017 he was awarded the John Simon Guggenheim Fellowship.