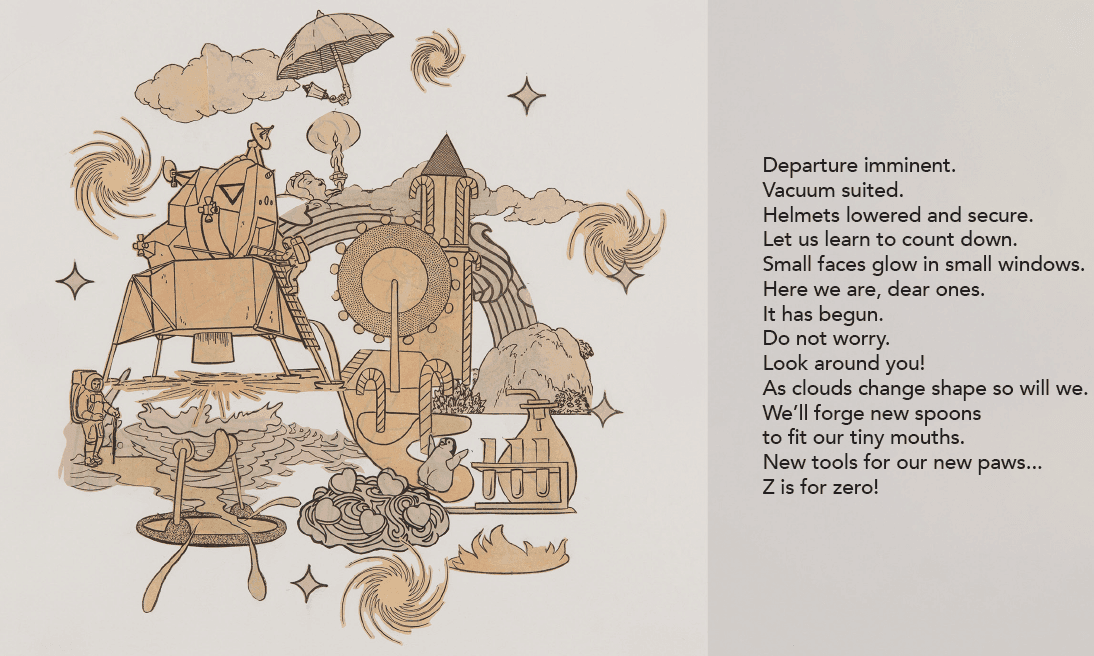 On View
Buchwald-Wright Gallery, Free Admission
Curator
Sabbatical exhibition by Craig Hill, Associate Professor of Studio Art in collaboration with Affiliated Scholar and Poet Phil Brooks.
Acknowledgements
The Gund Gallery exhibitions and programs are made possible, in part, by the Gund Gallery Board of Directors and the Ohio Arts Council.
Donors/supporters

Report from the Surface is the result of a collaboration between visual artist Craig Hill and writer Phil Brooks during the Covid Pandemic (2020-2022).
Using coloring books ranging from the 1930's-early 2000's, Craig Hill has produced a series of 25 bizarre and darkly humorous collage scenes– dreams, space adventures, and exotic fantasies that seem to bring some sort of dark subconscious into view. The shared themes and content of the series of visuals came to inspire Brooks's poetic text, becoming fodder for warped, quasi-religious folklore.
As an artistic team, Hill and Brooks developed a visual and poetic osmosis. The texts rarely responded directly to a specific collage, i.e., the text was not a caption for a given collage, nor was any collage created as an "illustration" for a poem. In addition, unlike in most collaborations between a poet and visual artist, Hill generally matched a text to a chosen collage before ordering the whole to create a dreamy narrative where image and text complemented each other.
In the end, the creative process wed Hill's hallucinatory visions with Brooks's uncanny, blurred recollections of love, interstellar travel, and religious origin story. Their hope is that the experience of reading the complex imagery of the collages alongside the evocative poems creates something like scenes from a silent movie watched in the mind's eye. Phil Brooks is a highly-skilled typist whose handiwork–poetic and fictional–has appeared on various pages, including those of The Quarterly, Willow Springs, The Beloit Poetry Journal, and The Kenyon Review. He was trained in yodeling and small engine repair at The Iowa Writers Workshop and currently resides in Ohio with his mysterious wife, stalwart son, and gleaming schnoodle dog. He can be hailed or reached for comment at phibro@gmail.com.
Craig Hill is a painter, sculptor, draughtsman, and amateur radiologist whose artwork has hung on walls in Washington D.C., New Orleans, Minneapolis, Boston, Atlanta, Providence, Philadelphia, Brooklyn, and Columbus, Ohio. His master's degree from the Rhode Island School of Design entitles him to discounts at tire outlets nationwide. Further, he's a professor of art at Kenyon College in Ohio where he lives with his groovy wife, buoyant daughter, and turbulent hound. He can be questioned or buttered up at craig@craighillart.com.